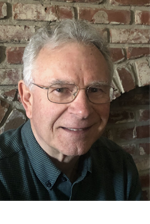 Stephen Gabriel was born in Quincy, Massachusetts. The son of a merchant sea captain and a homemaker, he moved with his parents and five siblings to Fort Lauderdale, Florida, and then to the Panama Canal Zone, where he attended high school.

He graduated from Loyola University of Chicago with a B.A. in economics. He received an M.S. in finance and a Ph.D. in agricultural economics from the University of Illinois.

Gabriel and his wife, Peggy, have been married 48 years. They have eight adult children and 37 grandchildren. He is a retired agricultural economist with the federal government.

Gabriel is the author of three books on fatherhood, To Be A Father: 200 Promises that Will Transform You, Your Marriage and Your Family, Speaking to the Heart: A Father's Guide to Growth in Virtue and The Indispensable Dad: A Guide to Cultivating Family Happiness, Virtue and Success. He is the editor of Catholic Controversies: Understanding Church Teaching and Events in History. He also wrote a book for grandparents entitled Hope for you Grandchildren: Talking to the Third Generation About What Matters.

Alone with Jesus: Praying with the Gospels is the product of many years of struggling to pray well. The struggle continues as he tries to take small steps closer to Our Lord while conversing with him and listening to his words in the Gospels.
His most recent book is Put Out into the Deep: Become the Apostle You are Called to Be.